Ethnic Rhinoplasty in Chattanooga
The nose is one of the most important facial features, and your choice of rhinoplasty surgeon can significantly impact your results! Not all noses or facial plastic surgeons are created equal, and what works on one face may not work on another. 
When you invest in a rhinoplasty procedure, you invest in yourself. Ethnic and individual factors must be considered when crafting your new nose, or you risk being unhappy with an unnatural-appearing nose. Dr. Shire at Shire Plastic Surgery understands this and is deeply committed to a personalized, one-on-one approach that compliments your ethnic heritage and ensures your desired results.
What is an Ethnic Rhinoplasty?
An ethnic rhinoplasty is a surgical cosmetic procedure that improves the appearance of the nose. Simply put, a nose that looks great on a person of one ethnicity will look unnatural and out of place on someone of a different ethnic background.
There are critical structural variations between ethnic and non-ethnic noses. A surgeon experienced in ethnic rhinoplasty can craft a new and improved nose that aligns with your unique facial structure and retains your ethnic heritage. An ethnic rhinoplasty may also be referred to as an ethnic nose job.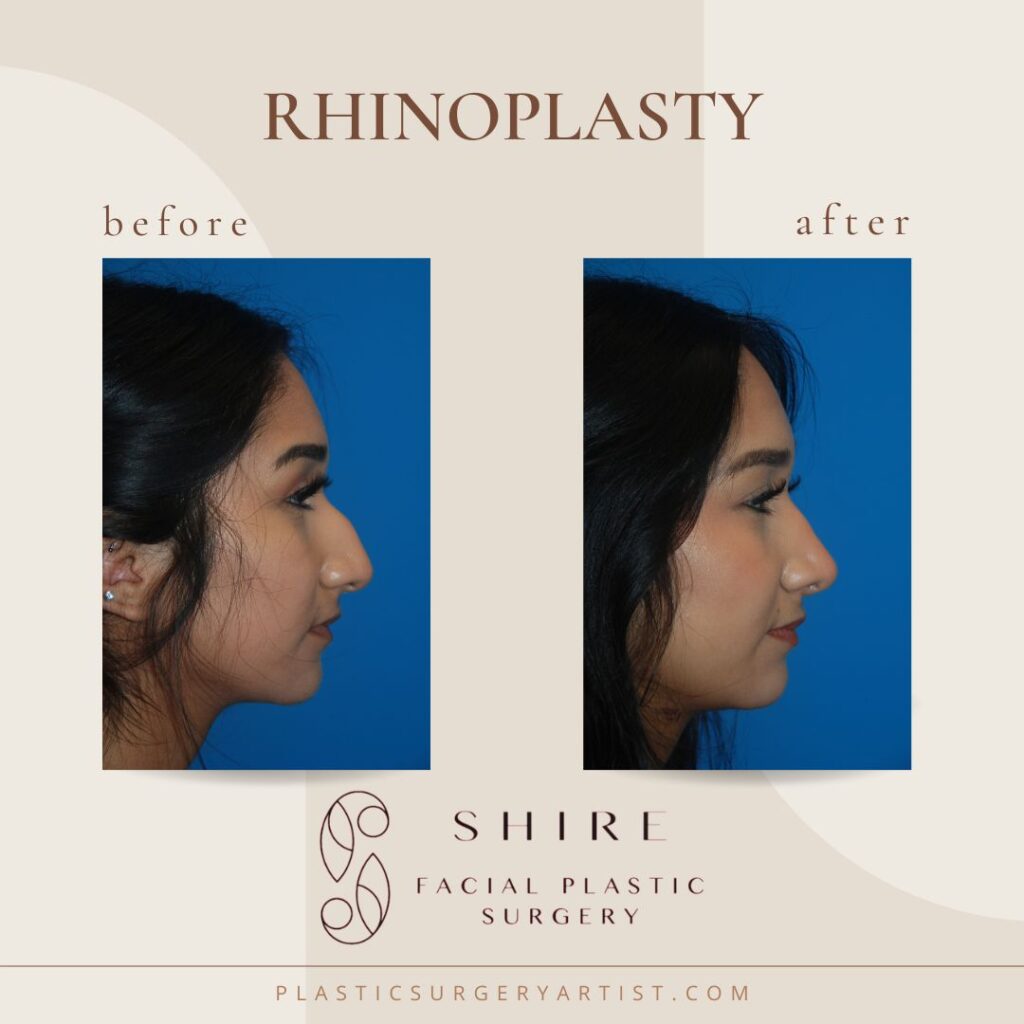 Common Nose Traits & Procedures by Ethnicity
African-American noses tend to be the most prominent of all ethnic groups, with a broad nasal bone and wide nasal passages. A skilled ethnic rhinoplasty surgeon will consider these factors when designing a new nose for an African-American nose job.
Asian noses often have a very small to non-existent nasal bridge. They may also have wider-than-average nostrils and a flared nasal base. A skilled ethnic rhinoplasty surgeon can account for these features in an Asian nose job while ensuring that the patient is satisfied with their results.
Hispanic noses may have a broader base, prominent or hooked tip, and larger nostrils. Because of varying facial structures, what may look natural on one ethnicity can look unnatural on another.
While noses from all ethnicities may have similar traits, they can also vary greatly. This is why Dr. Shire takes a unique and personalized approach for each of his patients. At Shire Plastic Surgery, we use your ethnic background as a guide and consider your individual facial structure and personal preferences with all ethnic rhinoplasties.
Am I A Good Candidate?
If you are unsatisfied with the appearance of your nose, an ethnic rhinoplasty may be an excellent option for you. A rhinoplasty will change the shape of your nose permanently.
Ethnic rhinoplasties are performed on adult patients of all ages and genders. Before your rhinoplasty or any other elective surgical procedure, you should be physically healthy.
Before proceeding, it is essential to fully understand the benefits, risks, recovery period, after-care instructions, and the expected outcome of the procedure. While rhinoplasties are widely considered safe, there are risks associated with any surgical procedure. Dr. Shire will thoroughly explain this information in your consultation.
Ensure you are satisfied with your surgeon and confident that you are choosing the best ethnic rhinoplasty surgeon. Dr. Shire and his team will always give you the individualized attention, care, and compassion you deserve.
How Much Does an Ethnic Rhinoplasty Cost?
The cost of an ethnic rhinoplasty generally ranges from $5,000- $6,000. Here are some factors that can impact the total cost of your procedure.
Anesthesia Fees
Although general anesthesia isn't required to undergo ethnic rhinoplasty, it may be recommended by your surgeon or it may just be a personal preference for a patient. In the cases where local anesthesia is provided, a fee will be applied to your statement.
Experience Level of Your Surgeon
Ethnic rhinoplasties are in high demand, especially when they can be performed by a skilled plastic surgeon like Dr. Shire. He is board-certified by the American Board of Otolaryngology-Head and Neck Surgeons, the American Board of Facial Plastic and Reconstructive Surgeons, and is also a Fellow of the American College of Surgeons.
Surgical Fees
It will take a team of experts to ensure your comfort and safety during your ethnic rhinoplasty procedure. As a result, individuals such as doctors, surgeons, or even anesthetists may apply fees, called surgical fees, to your statement.
Location
Your geographic location plays a critical role in how much your ethnic rhinoplasty will cost. While an ethnic rhinoplasty in Chattanooga, Tennessee typically ranges from $5,000- $6,000, this amount can be higher or lower based on factors such as the level of demand, and the cost of living.
It's essential to remember that ethnic rhinoplasties are considered cosmetic procedures. Therefore, health insurance does not cover elective rhinoplasty or other elective cosmetic procedures like these. Expenses are generally paid for out of pocket.
If you are seeking an alternative method to cover your procedure, Shire Plastic Surgery has financing options available. Our team will be always happy to discuss your options with you!
What to Expect During a Consultation for an Ethnic Rhinoplasty?
During your consultation, Dr. Shire will thoroughly examine and assess your nasal structure, cartilage, and the bones of your nose and face. He will then discuss the procedure with you in more detail, in addition to going over your individual goals, and ensuring your expectations are realistic.
At this time, the risks and benefits of your rhinoplasty will also be explained in great detail.
After your ethnic rhinoplasty, you may notice swelling for about three to four months post-op. This swelling will gradually decrease over time. It may take up to 12 months to see the full and final results of your procedure.
Dr. Shire is very knowledgeable and professional. His staff are very attentive and warm.
Rebecca Pellegrin
2022-10-27
Great staff and service! Dr. Shire is the best!!!
When your two best friends travel from Dallas, TX and Atlanta, GA to Chattanooga, TN for Dr. Shire's impeccable surgical skills, you know that Dr. Shire is one of the best facial plastic surgeons. Then, when their physicians and friends back home (Dallas, TX and Atlanta, GA, not exactly small cities without choices) are so utterly amazed of the incredible results and ask for Dr. Shire contact information to make appointments, now there is no doubt that Dr. Shire is THE very best facial plastic surgeon!
Dr. Shire really listens and cares for his patients. He explained everything thoroughly.
Happy Yates Baker
2022-05-09
What a wonderful office - great assistants, fab service, and the BEST plastic surgeon anywhere around!!! Just perfect! AAAAAAAA++++++
Why Choose Dr. Shire for an Ethnic Rhinoplasty?
At Shire Plastic Surgery is dedicated to creating a nose that seamlessly fits your face. Dr. Shire uses the most advanced rhinoplasty techniques and a personalized approach and uses a combination of skill, artistry, and expertise to provide patients with results they'll love.
In addition to being double board certified, Dr. Shire is a leader in his field and has been voted the Best Plastic Surgeon in Chattanooga every year from 2009-2018. With over 25 years of experience in facial plastic surgery, you can rest assured that when you are with Dr. Shire, you'll be in good hands.   
An ethnic rhinoplasty is an investment in yourself. Are you interested in an ethnic rhinoplasty in Chattanooga, Tennessee? Dr. Shire and his team will guide you through this process with the utmost skill, professionalism, and compassion.Are you ready for the next step in your ethnic rhinoplasty? You can schedule a consultation online, or call our office at 423-870-FACE (3223) today.
Rhinoplasty Before & After Gallery
Be sure to view our Sculpture Rhinoplasty Before and After Photo Gallery to see real patient rhinoplasty results at Shire Facial Plastic Surgery.
click here
Frequently Asked Questions About Ethnic Rhinoplasty Surgery
What is the difference between rhinoplasty and ethnic rhinoplasty?

An ethnic rhinoplasty is a specific type of rhinoplasty. Although they are very similar surgically, a surgeon performing an ethnic rhinoplasty has carefully considered individual, ethnic, and cultural facial structure to ensure a natural-appearing nose after surgery. 
Can you combine ethnic rhinoplasty with other procedures?

Yes! If you are interested in more than one cosmetic procedure, please let us know. We are happy to discuss this in greater detail during your consultation so you know exactly what to expect. 
How long does ethnic rhinoplasty last?

An ethnic rhinoplasty should last a lifetime. If you are unsatisfied with the appearance of your nose, this can be a permanent solution. 
How long does ethnic rhinoplasty take to heal?

Your cast will be removed one week to ten days post-op. You will experience swelling for three to four months post-op, which will gradually decrease with time. It can take up to a year to see your final results. 
What are the benefits of ethnic rhinoplasty?

An ethnic rhinoplasty is associated with the following benefits:

Improved satisfaction with the look of your nose and face.
Increased confidence and self-esteem.
Improved appearance of your nose while maintaining your heritage and ethnic identity.
A nose that is natural looking, fits your face, and compliments your other facial features.