Facelift in Chattanooga
Before & After Gallery
Be sure to view our Before and After Photo Gallery of Facelift to see real patient results at Shire Facial Plastic Surgery.
click here
One of the most requested procedures for facial rejuvenation is the facelift. Skin that sags or droops around the neck area, a double chin, wrinkled necks, jowls, marionette lines, and neck bands are all signs of aging, and are created by gravity, time, heredity, health, and personal habits, like sun tanning and smoking. Dr. Shire provides an extensive personal consultation to facelift patients to help him create a personalized treatment plan that will improve their specific concerns and reach their unique aesthetic goals.
Facelift that Looks Natural
Dr. Shire has developed a facelift technique, including liposuction, which truly provides a natural appearance with less bruising and a shorter recuperation time. Dr. Shire's surgical techniques preserve the hairline, which will allow you to wear your hair pulled back or up without exposing incision lines, thus eliminating the sequela common to facelift procedures. He uses the hair sparing incision, which prevents the loss of temple/sideburn hair and the hair behind the ears on the neck. It also does not change the shape or position of the ear or ear lobe, and hides all scars so they are not visible. The operation lifts the deep muscle-fibrous layers of the face and neck, and repositions and secures them. Dr. Shire does not need to pull or stretch the skin with this facelift technique that he uses.
Dr. Shire is the author of many publications on facelift, which includes the chapter "Facelift Incision" in the text Facial Plastic Surgery. To get more information on Facelift Incision, click here.
Facelift Recovery
Surgery is performed as an outpatient. There are no drains, no dressings or bandages, and there is no pain – 80% of patients never take any pain medication except Tylenol®. Facelift patients generally look and feel good within a week. Many of them can go out with their friends within 7-10 days.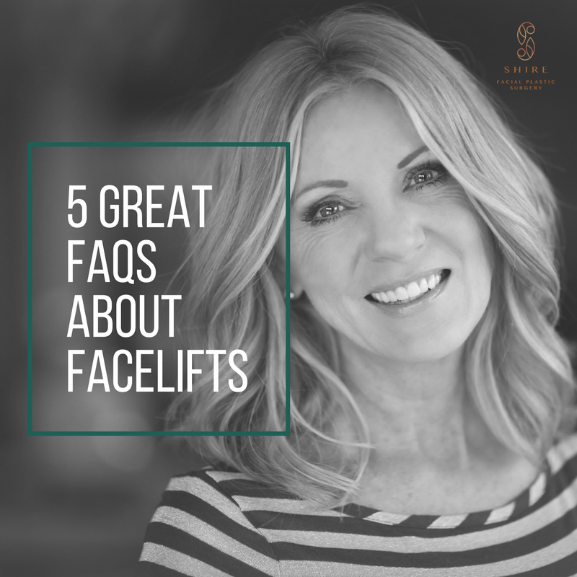 Reveal Your Inner Beauty
A successful surgery starts with an effective consultation. For quality face lift surgery in Chattanooga, TN call Dr. Shire's Chattanooga practice today to schedule a facelift consultation.
Before & After